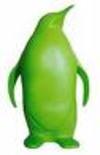 Les entreprises américaines sont derrière les entreprises européennes dans leur réactivité aux considérations sociales et environnementales selon le rapport
Ethical Investment Research Services
. Cette étude
« The State of Responsible Business: Global corporate response to environmental, social and governance (ESG) challenges »
offre une large vision, sur l'actualité en matière de responsabilité sociale. Cette étude démontre aussi les tendances dans le domaine de la responsabilité sociale. Accéder à cette étude : cliquez
ici
September 15, 2007
Where in the World is Corporate Responsibility?
by Anne Moore Odell
http://www.socialfunds.com/news/article.cgi/2372.html
EIRIS' new report "The State of Responsible Business" details growing corporate responsibility in businesses worldwide.
SocialFunds.com -- US companies are behind European companies in their reactions to social and environmental concerns, reports Ethical Investment Research Services (EIRIS) in their new study released this week. The study, "The State of Responsible Business: Global corporate response to environmental, social and governance (ESG) challenges," casts a wide net, offering an overview of current corporate responsibility. It also points out trends in corporate responsibility and where the trends are heading.

Generally, more and more businesses are adopting responsible practices in regard to key issues identified by EIRIS. These issues consist of corporate governance, environment, equal opportunities, human rights and the supply chain. In spite of the increase of corporate responsibility overall, not all areas of the world are responding equally.

EIRIS, an independent research provider with main offices in London, researched thousands of companies across the globe to compile this report. Looking at company annual reports, sustainability/CSR reports, company websites, survey responses and third party materials. EIRIS' also identified and considered "green-wash" in its research. EIRIS went beyond what companies say they do, to actually considering what processes they have in place, and whether these processes are successful in achieving meaningful results.

Europe leads the way in adopting responsible businesses practices across the board. Almost 75% of European companies that have operations in high-risk countries have a human rights policy in place, compared to less than 40% of US companies and fewer than 20% of Asian companies.

Europe and Japan have the highest number of companies with environmental protocols in place, with over 90% of companies having some form of an environmental policy.

In Europe, a number of factors drive strong ESG performance, the report notes. Stricter regulatory environment across the European Union, the presence of many non-governmental organizations (NGOs), individual awareness of sustainability issues and investor willingness to put pressure on companies to adopt better environmental practices all raise the awareness of European companies.

Bob Gordon, author of the report and Head of US and Japan Research for EIRIS, explained to Socialfunds.com. "A core of large US companies are doing well, but a long tail of companies are not rising to meet their ESG challenges. The smaller, domestic companies operating in the US have been less exposed to the pressure exerted by investors and other stakeholders regarding their ESG risks and challenges."

Companies in Asia (excluding Japan) are cited in the report as the least likely to espouse corporate responsibility. This is likely to change, however, as more NGOs bring pressure to Asian companies to agree to increased transparency and ESG policies. Investors are also bringing more pressure on Asia's emerging markets.

Over 50% of European and Japanese companies have demonstrated a quantitative improvement in their environmental performance. Conversely, less than 20% of US companies can make the same claim, the study reports.

"We should expect to see progress on this issue, both in the US and Asia ex-Japan, driven in large part over the last few years by the high profile nature of climate change," Gordon said.

Another major finding of the report is large companies are more likely to adopt responsible business practice than smaller companies. Larger companies are under greater influence from responsible investors and other stakeholders to improve the way they address their ESG impacts and, therefore, have gone further in attempting to address them Gordon believes.

"Large companies face greater risk to their brand image, and face greater investor pressure as a larger number of investors have greater assets invested in the company," Gordon concluded.

US companies do lead the way in having policies in place for equal opportunities for women: 94% of US companies, 88% of European companies and 87% of New Zealand/Australia companies have equal opportunities policies. The report states, "Increasingly, companies view equal opportunities less as a way to avoid criticism or lawsuits, but more as a means to build reputation and gain competitive advantage by accessing a broader skill set."

The continuing growth of responsible investment has played a significant part in persuading more companies to respond to ESG concerns Gordon noted. He commented, "The increase in the number of active investors and the high level of media attention given to corporate responsibility issues has persuaded greater numbers of companies that taking a pro-active approach to corporate responsibility generates value by increasing shareholder value, building brand image or helping to avoid controversies and scandals."

Gordon pointed to recent evidence that suggests that incorporation of ESG issues into investment analyses can help fund managers better understand the future performance of companies in the long term. The implication is that investors can use information from companies' responses to ESG issues to predict which companies will out-perform the average in the long term.

"For certain companies there is undoubtedly a positive financial case for adopting and enhancing responsible business practices. The numbers of consumers making ethical purchases is on the rise, therefore generating an ethical brand image may attract a greater number of consumers," Gordon said. "In addition, responsible business has the potential to improve financial performance by delivering improvements in staff attitudes and productivity and enhancements to internal processes. "

The report concludes that corporate responsibility will continue to grow globally, with emerging markets rushing to meet the higher standards found in the European Union. Developed markets will also see an increase in corporate responsibility, transparency and reporting on ESG issues.