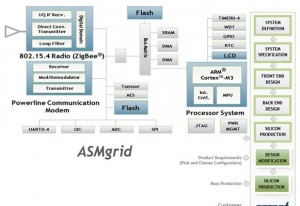 Smart meters, smart thermostats, smart appliances and other smart grid devices have lots and lots of chips in them. Putting all those functions together in one system-on-a-chip (SoC) can save lots of money and time spent on integration — that is, if they can give smart grid device makers the right combination of silicon to meet their needs. The latest example comes from Accent. In May Accent launched its ASMgrid platform, which promises to integrate multiple smart meter functions — including a host of communications options, which the company calls a first for smart grid SoCs — into one platform. Earlier this week, the Milan, Italy-based company raised 5 million euros ($6.9 million) from Tallwood Venture Capital to speed that development process.
"To develop a silicon device from the ground up can be a two-year process," Accent marketing director Ed Pazmino told me. "We've done this development in advance. That enables a customer to get to a solution in just three to six months."
Accent already counts smart meter maker Itron as a customer. But it's not the only one tackling the "smart meter on a chip" challenge. Freescale came out last year with its MCF51EM microcontroller family providing a host of advanced metering functions on one SoC. Teridian Semiconductor has a line of SoCs focused on more accurate power measurement for smart meters. Last month, ST Microelectronics'power line communications SoC was adopted by Spanish utility Iberdrola for its smart meter plans.
For smart grid device makers, there are some clear advantages to using SoCs instead of mixing and matching different bits of silicon on their own. But there are also challenges to the "smart meter on a chip" approach. Some smart meter makers might worry about lack of flexibility to mix and match communications, power measurement and processors based on particular applications. Of course, a lot of these integrated chipsets also share common components — lots of them use ARM microprocessors, for instance, including Accent.
Then there's the evolving nature of the smart grid technology landscape to consider. Right now utility smart grids are pieced together from a host of different, often proprietary, mostly incompatible technologies. That problem is put in clear perspective with Accent's new goal of incorporating communications technologies, such as ZigBee and powerline carrier (PLC), into its SoC plans. For example, Accent in March landed a deal with Chinese powerline carrier communications maker Topscomm to develop SoCs for devices being built for China's potentially huge smart grid market. But those systems will use Topscomm's PLC technology rather than Accent's, Pazmino said.
Indeed, SoC makers must keep in close contact with different technologies being developed for different regional markets. While Spanish utility Iberdrola is settling on a powerline carrier standard for its smart meter communications, French utility EDF has its own PLC technology under development. China, a potentially huge market, has special needs from would-be PLC technologies, such as the ability to communicate over distribution lines with lots of interference, or "noise," to contend with.
At the same time, chipmakers point to regions like China, India and Latin America as potential growth areas for smart meters on a chip. While North America and Europe are dominated by a handful of huge meter vendors and smart grid equipment makers, emerging economies have more local metering companies that might want to leap right into the smart meter world with a product designed largely around one SoC.
Semiconductor companies are also looking at offering SoCs with different levels of complexity. While Accent is going for the higher-end smart meter market, NXP is going after simpler needs with its EM773 integrated circuit, built to give typical devices like power switches and outlets the ability to report how much energy they're using.
For more research on the smart grid check out GigaOM Pro (subscription required):